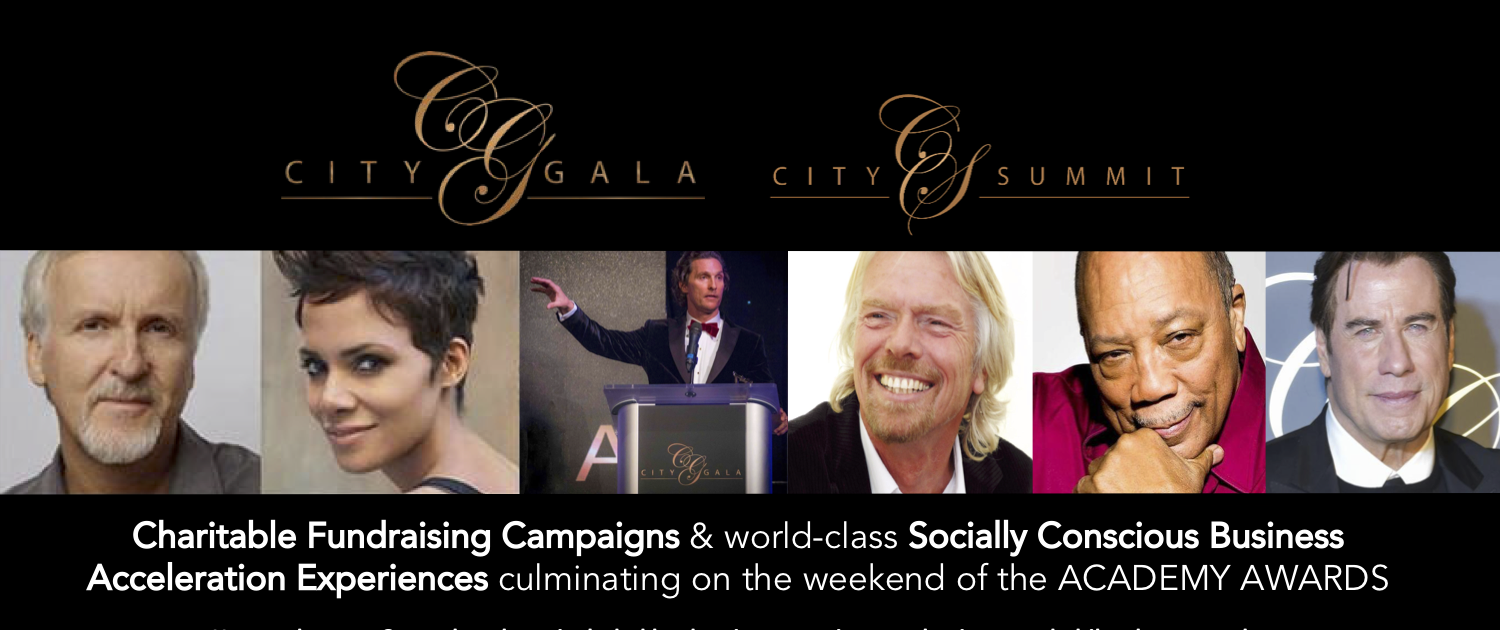 AWELF sponsors the City Summit & Gala – helping entrepreneurs accelerate their businesses and assisting established (and start-up) non-profits founded by community leaders with increasing their visibility/awareness, access to our network of donors, training where needed, and expansion (or seed) funding so that their organizations can thrive.
As part of the Global Unity programming of International Arts & Philanthropy Foundation, our CITY events have featured leaders in business such as Richard Branson, Diddy, Jeff Hoffman (Founder, Priceline.com), John Paul DeJoria (Patron, Paul Mitchell), and Ashton Kutcher (Co-Founder, A Grade Investments & Sound Ventures), leaders in sports including Ray Lewis, Byron Scott, and Terrell Owens, and Grammy/Oscar winners including Quincy Jones, James Cameron, Halle Berry, John Travolta, Charlize Theron, and Matthew McConaughey, among other luminaries:
City Summit – 40 World-class Socially Conscious Business Acceleration Experiences held throughout the year and around the country. With over 5,000 attendees, we elevate their business acumen by giving them tools, techniques, knowledge, insights, motivation, and top-level networking relationships, culminating on our 3-day Marquee Summit held in LA during the weekend of the Oscars (Feb. 21-23). See list of our Legacy Speakers.
City Gala (Feb. 24, 2019) – Advancing Humanity Through Humanitarian Activities & Events. The red-carpet charitable fundraiser is held on the evening of the Oscars in Hollywood. From 2018 City Gala proceeds, AWELF made a donation to INROADS to send 100 young people through its new entrepreneurship and leadership program called W.I.S.E – Wylie Initiative For The Study for Entrepreneurship. 2019's upcoming Gala will further honor Forest Harper, CEO of INROADS, with our Hero Award for his long-standing commitment to promoting diversity in the workplace.